There are so many cool
free
games out there that nobody knows about. Here is a list of some of the best game clones. Keep checking back for more freeware!
Neverball is a very good clone of Super Monkey Ball. I like it even better that Super Monkey Ball. Neverball has very good graphics and lots of levels. It also comes with a similar golf game called Neverputt. Neverball is a must have game, especially at the price of free!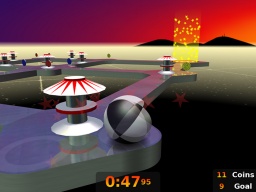 SuperTuxKart is a clone of Mario Kart. It has lots of tracks and karts and is very fun to play. I recommend checking it out.

It's no secret that this is a clone of Super Mario Brothers! It has the same look and feel and is a very fun game! You can even make your own levels.

Flightgear is a clone of Microsoft Flight Simulator and of X-Plane.